Your Rockland County Business Needs an Effective Website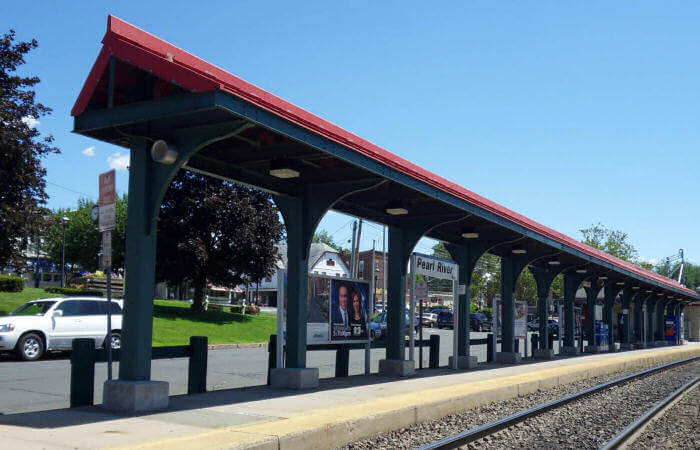 Web design to grab your prospects.
Mobile-friendly marketing.
To clearly convey to your prospects the benefits they'll get by doing business with you and what makes your Rockland business special. For Prince Global's web designers, these are essential aspects of effective web design on any device. A website must also be visible to prospects in desktop and mobile search results and should be structured for search when it is designed. At Prince Global Web Design, we design for search.
Web design driven by marketing experience
Located in New York's historic Hudson Valley, we help local business clients grow through web design and search optimization that furthers our clients' strategic marketing goals. We take time to understand their marketing strategy, identify their primary target prospects, and then structure a cost-effective custom-designed website to gain visibility in desktop and mobile searches.
Whether you are established or starting out — professional, retail, manufacturing or not-for-profit — Prince Global will design and develop a website to get your strategic message out to your target prospects, whether they are in Rockland County, the lower Hudson Valley, or throughout the US.
Long before web design, Rockland County's small businesses fueled its growth
Entrepreneurship in Rockland County, a bit of history
[Skip this history stuff]
Following Henry Hudson's historic sail upriver in 1609, the Dutch established a fur trading post called Fort Nassau at Albany in 1614, later replaced by Fort Orange of the Dutch West India Company, which carried on the trading business and encouraged settlement along the Hudson River.
Rockland settlements, entrepreneurs and industries
As seen from the Hudson River, Rockland's character was defined by the Palisades and Verdriedege Hoek, the ridge marking the western shore between the Tappan Zee and Haverstraw Bay, which took hours for sailing ships to round. Rockland's shore was thus not the most hospitable for farming.
The first Rockland County settlement, called Vriesendael, was built in 1640 on Sparkill Creek near Piermont by Captain David Pietersen De Vries, who purchased the land from the Tappan tribe of Lenapes. In 1643 the Dutch West India Company's governer-general William Kieft decided to go to war against the Algonquian-speaking River Indians, resulting in the deaths of some 1600 Indians and general destruction of all the early Dutch settlements but Rensselaerwyck. De Vries returned to Holland in disgust, and though a peace treaty was made in 1645, no new attempt was made to settle the Tappan area for more than four decades. The Dutch lost the New Netherlands colony to the English in 1664, closing out a turbulent chapter in relations with the Algonquans.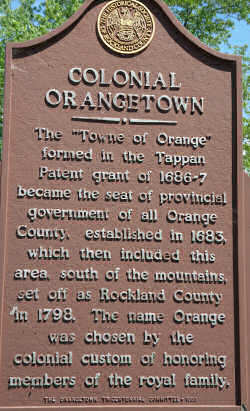 Haverstraw was settled on land purchased from the Haverstraw tribe of Lenapes in 1666. The name Haverstroo, Dutch for "oat straw" from the wild oats that grew along the river bank, was shown on a 1656 map of New Netherlands made by Adriaen van der Donck, the landowner of Yonkers. Nyack was settled in 1675, and Orangetown in 1686 on land purchased from the Tappan tribe. Orangetown's early settlers, whose descendants spread north and westward from Tappan through the interior of the county, were 30 Dutch families. The Tappan tribe moved west, for a time living by the wetlands of the Hackensack River, until most had succumbed to smallpox or other European diseases.
The Hudson River was the main factor in early commerce, with boats carrying freight and passengers north and south — when it wasn't choked with ice. Farming was the main occupation in Rockland, and the earliest of its entrepreneurial industries was the growing of food for sale in New York City. Weyant's Island (Iona Island) became famous for its Iona grapes, as well as for its fruit trees.
New industries exploited Rockland's resources, especially its stone, wood and iron ore. Boat building was one of the early industries and persisted until after the Civil War. Johnsontown, founded in the mid-18th century (its site now in Harriman Park), was the center of boat building for its plentiful supply of timber. Iron ore mining began in Orange County in 1736 and in Rockland by 1768. A Dane named Thiells constructed a forge, and the hamlet later called Thiells Corner was known during the Revolutionary War as Haverstraw Forge. Many iron products were made – plows, hoes, railings, nails, chain, anchors, and cannonballs.
Revolutionary War
Rockland played a significant role in the Revolutionary War. The Orangetown Resolutions of July 4, 1774, published in Tappan, led to the Declaration of Independence exactly two years later. In two important battles, the British captured the Twin Forts of Montgomery and Clinton at Bear Mountain on the Orange County border in 1777, and Mad Anthony Wayne followed Washington's battle plan and took the fort at Stony Point in 1779. In 1780 General Benedict Arnold, who then commanded the fortifications at West Point, made plans to surrender them to the British. The plot was discovered when British Major John André was captured behind American lines in Tarrytown with the plans. Arnold escaped down river, received a commission in the British army, and led British forces in several attacks before he moved to London. André, 30 years old, was tried as a spy, convicted and hanged in Tappan, "more unfortunate than criminal", as Washington wrote. In May 1783, Washington met with the British commander Sir Guy Carleton at the DeWint House in Tappan, the oldest house in Rockland, to arrange for the British evacuation from New York City.
In the 19th century, gray and red sandstone from local quarries was supplied for the capitol at Albany, Trinity Church in the city and the first building at Rutgers College. The mountain people of Ladentown made baskets, beer barrel hoops, bowls, chairs, ladles and spoons from wood and reeds and sold them in the city. Rockland Lake developed a reputation for making the purest ice in the area, which was harvested in winter by The Knickerbocker Ice Company beginning in 1831, stored till summer in storehouses lined with sawdust, then shipped to the city from Slaughter's Landing in their own steamboats and ice barges. Knickerbocker employed 3000. The Rockland Lake community included hotels, firehouse, school, stores, and a stone-crushing mill.
New businesses harness water power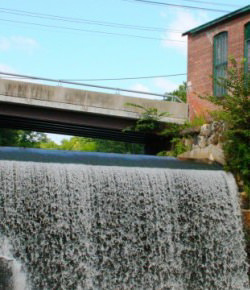 Power for Rockland County's factories and mills was supplied by the Ramapo River at Suffern and the Minisceongo Creek at Garnerville. By 1813, a 120-foot dam on the Ramapo River powered the Ramapo Works foundry, owned by the Pierson brothers, which produced a million pounds of nails annually. A cotton mill was added in 1814 and later woolen mills. A calico printing plant, later known as Rockland Print Works, was built in Garnerville starting in 1838 and eventually included 30 buildings on Minisceongo Creek, employing thousands of workers. Still in existence as the Garnerville Arts & Industrial Center, housing engineering and artist studio space and the Garner Arts Center, it has been listed on the National Register of Historic Places. From 1850 Garnerville was also the site of the John Suffern Paper Mill. In 1838 Calvin Tomkins and his brother Daniel purchased land in a cove north of the Stony Point promontory, where limestone was found suitable for making lime.
The greatest of Rockland County's industries was brickmaking, which exploited the clay banks of the river at Haverstraw, starting in 1810. Englishman James Wood set up a brick kiln in Haverstraw in 1817. Wood's process, mixing coal dust with the clay, revolutionized the industry. By the early 20th century there were more than 40 brickmaking factories in the village, called the brickmaking capital of the world. Bricks were shipped by the ton down river to New York City.
Railroads contribute to business growth
Despite its several industrial sites, Rockland was still a rural farming region on the quiet side of the river, connected to Westchester by ferries. It was convenient inland transportation that opened Rockland market towns to development: the New York & Erie Railroad from Piermont to Goshen in 1841; the Northern Railroad of NJ (West Shore RR) from Jersey City to Sparkill, Piermont and Nyack in 1859; and the Pascack Valley line (NJ&NY RR), which changed the character of sleepy towns from Pearl River and Nanuet to New City, and Spring Valley to Haverstraw in the 1870's. Julius Braunsdorf brought the railroad to the hamlet he renamed Pearl River (formerly known as Muddy Brook). A rival of Thomas Edison, Braunsdorf was the inventor of carbon arc light bulbs and electric generators and installed the first indoor lighting in the world in the Capitol in Washington, D.C.
Unsung cradle of New York's farm winery industry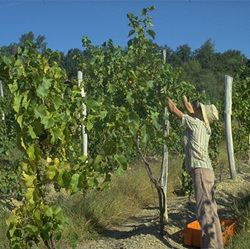 During the 19th century, experiments with hybridizing and growing French-hybrid grapes were carried out at Croton Point and Marlboro. In 1950, writer Everett Crosby replanted a 19th century vineyard of 53 acres at High Tor, the highest peak in Rockland County. His High Tor Vineyards produced Rockland Red, White and Rose wines from French-hybrid grapes. Crosby generously mentored and encouraged the illustrator Mark Miller, a long-time friend of ours, who bought and replanted Benmarl Vineyards in Ulster County, producing fine wines that were served in high-end Manhattan restaurants like Windows on the World and the Four Seasons.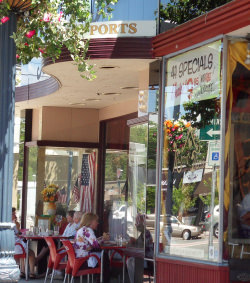 Miller's tireless efforts on behalf of local growers, along with those of John Dyson, Commissioner of Agriculture under Governor Hugh Carey, led to passage of the Farm Winery Act in 1976, which in turn led to a new winegrowing industry throughout New York State that thrives today. The appellation Hudson River Region was granted to local winegrowers in 1982. It would not have happened without the work of Everett Crosby at High Tor.
Small businesses drive Rockland County's growth today
The opening of the Tappan Zee Bridge in 1955 and the Palisades Parkway in 1958 led to the end of local farming and changed Rockland County into suburbia, providing new opportunities for retailers, contractors and innovative small businesses as the population burgeoned. Entrepreneurs have always fueled Rockland County's growth, and that dynamic continues today with new ventures such as the France Brothers' Torne Valley Vineyards in Hillburn, Andrew Arcangel's True Athelite sportswear, and Luis Mata's Closet Concepts in New City.
The Rockland Economic Development Corporation provides resources for small business owners, startups and entrepreneurs through its Small Business Center in Pearl River, including no-cost access to office space, the Internet and business planning software.
Are you ready to invest in your Rockland County business? Call us!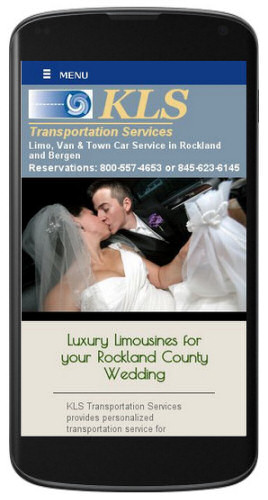 With effective web design, Prince Global will get your strategic message out to prospects — at reasonable cost
If you're thinking about replacing an ineffective or dated website with a quality site that supports smartphones and tablets as well as desktops, talk to us. As creative web designers and optimization specialists, we will help you reach your prospects as we've helped many small businesses use the Internet effectively.
Your website can bring you more business. Call us today!
Call us for
Custom web design and development
Responsive/mobile design
SEO/search marketing
E-commerce sites
Software development
Content management, blogs, newsletters
Sponsored search, landing pages
Marketing planning and consulting